Chillers, like any complex mechanical systems, can encounter various issues. Here are some common problems associated with chillers and their corresponding troubleshooting techniques:
1.Insufficient Cooling Capacity:
Problem: Inadequate cooling capacity can result from dirty or blocked evaporator or condenser coils, improper refrigerant levels, or insufficient water flow.
Troubleshooting: Conduct a thorough inspection of coils, ensuring they are clean and unobstructed. Check refrigerant levels and adjust if necessary. Verify the flow rate of the chilled water, examining pump performance and valve positions. Inspect for air or water leaks and repair as needed.
2.High Energy Consumption:
Problem: Elevated energy consumption indicates inefficiencies, often stemming from control system issues, dirty filters, or mechanical problems.
Troubleshooting: Perform regular calibration checks on controls and sensors. Clean or replace air filters to maintain unobstructed airflow. Lubricate moving parts and ensure proper alignment. Conduct an energy audit to identify specific areas of improvement.
3.Refrigerant Leaks:
Problem: Refrigerant leaks lead to reduced cooling efficiency and environmental concerns.
Troubleshooting: Utilize specialized leak detection methods to locate and repair leaks promptly. Ensure proper evacuation and recharge procedures, following manufacturer guidelines. Monitor system pressure and temperature regularly to detect any fluctuations indicating leaks.
4.Water Leaks:
Problem: Water leaks can damage equipment and infrastructure, often caused by faulty connections, pump seals, or excessive pressure.
Troubleshooting: Inspect all connections, joints, and seals for signs of leakage. Regularly monitor and adjust water pressure to prevent stress on the system. Replace damaged seals and gaskets promptly. Implement a proactive maintenance strategy to prevent future leaks.
5.Compressor Issues:
Problem: Compressor problems, such as overheating or unusual noises, can lead to system failures.
Troubleshooting: Regularly check electrical connections for signs of wear and tear. Monitor oil levels and lubrication quality. Conduct vibration analysis to detect mechanical issues early. Maintain a comprehensive compressor maintenance schedule, including regular inspection and timely replacements of worn components.
6.Frozen Evaporator or Condenser Coils:
Problem: Frozen coils indicate issues with temperature and airflow, often caused by incorrect set points, dirty filters, or insufficient water flow.
Troubleshooting: Ensure the chilled water temperature is set within the recommended range. Clean or replace air filters regularly. Verify the water flow rate and adjust pump speed if necessary. Implement defrosting measures during low-load conditions, ensuring proper drainage to prevent refreezing.
7.Scale or Fouling Buildup:
Problem: Accumulation of scale or fouling on heat exchanger surfaces reduces heat transfer efficiency.
Troubleshooting: Implement a regular cleaning schedule, using appropriate chemicals or mechanical methods to remove scale and fouling. Install water treatment systems to prevent scale formation. Conduct water quality analysis to identify the root causes and implement corrective measures.
8.Control System Malfunctions:
Problem: Control system malfunctions can lead to erratic behavior, affecting chiller performance.
Troubleshooting: Regularly calibrate and test sensors, thermostats, and control settings. Inspect control wiring for loose connections or damage. Update control system firmware to the latest version, ensuring compatibility with other HVAC components. Implement redundancy and backup systems to minimize the impact of control failures.
9.Inadequate Water Flow:
Problem: Insufficient water flow can lead to reduced heat transfer efficiency and system inefficiencies.
Troubleshooting: Regularly clean and maintain water strainers and filters. Check for obstructions or airlocks in the piping system. Verify pump performance, inspect impellers for wear, and adjust pump speed to achieve the required flow rate. Conduct hydraulic analysis to optimize the piping system layout and improve water distribution.
Semi-Hermetic Industrial Chiller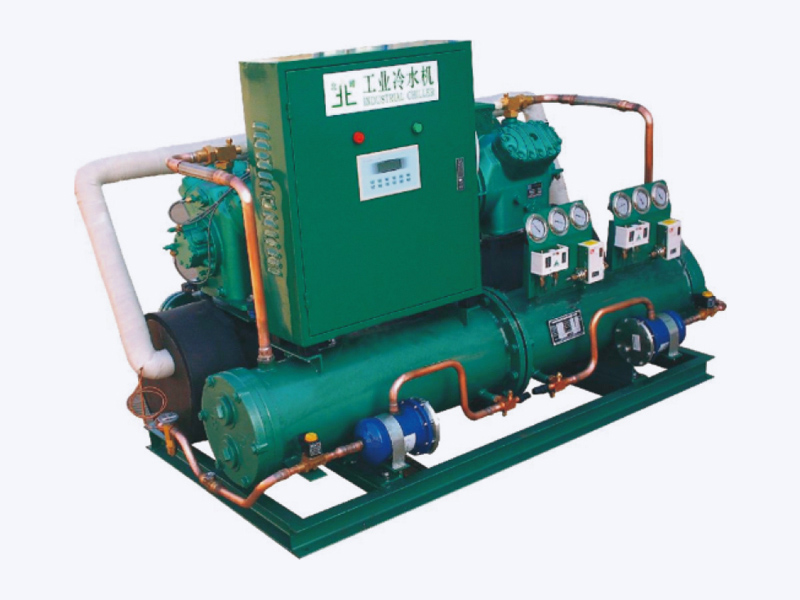 Related Products