There are specific safety considerations associated with the installation and operation of screw-type condensing units. Some of these considerations include:
1.Electrical Safety:
Proper electrical safety measures are paramount during the installation and operation of screw-type condensing units. Technicians should be well-versed in local electrical codes and guidelines. This includes ensuring correct voltage supply, secure grounding, and employing qualified electricians to handle all electrical connections. Regular inspections of wiring and components should be conducted to identify and rectify any potential issues that could lead to electrical hazards such as short circuits or electric shocks.
2.Refrigerant Handling:
Technicians must adhere to stringent protocols when handling refrigerants. This includes wearing appropriate PPE such as gloves and safety goggles to protect skin and eyes from direct contact. Proper recovery, recycling, and disposal procedures in accordance with environmental regulations should be followed. Additionally, technicians should be trained to identify refrigerant leaks promptly and repair them to prevent the release of harmful gases into the environment.
3.Pressure Hazards:
Screw-type condensing units operate under high pressure. It is imperative that technicians are aware of the pressure levels and understand the safe handling procedures. Pressure relief valves and other safety mechanisms must be inspected regularly to ensure they are functioning correctly. Technicians should utilize pressure gauges and follow established procedures to release pressure safely before conducting any maintenance or repair work on the unit.
4.Ventilation:
Adequate ventilation is essential, especially when installing screw-type condensing units in confined spaces. Inadequate ventilation can lead to the accumulation of refrigerant gases, which can pose health risks. Engineers should design ventilation systems that efficiently disperse any leaked gases, thereby maintaining a safe working environment. Regular air quality assessments should be conducted to confirm that ventilation systems are functioning as intended.
5.Mechanical Hazards:
Technicians should exercise caution around moving parts of screw compressors and other mechanical components. Lockout/tagout procedures, as per OSHA guidelines, must be followed rigorously to prevent accidental startup during maintenance activities. Regular lubrication and inspection of mechanical parts are essential to ensure smooth operation and prevent mechanical failures that could pose hazards.
6.Proper Installation:
Correct installation is foundational for safe and efficient operation. Screw-type condensing units should be installed on stable, level foundations, and securely mounted to prevent vibrations and potential damage. All connections, including piping and wiring, should be tightened to the manufacturer's specifications to prevent leaks and maintain structural integrity. Regular inspections after installation are crucial to identifying any issues that might compromise safety.
7.Compliance with Regulations:
Adhering to local, national, and international regulations and standards is non-negotiable. Compliance ensures that the installation meets safety requirements and legal obligations. Regular audits and inspections by regulatory bodies should be anticipated and welcomed, as they validate the safety and compliance of the installation.
8.Training and Certification:
Technicians should undergo comprehensive training and obtain relevant certifications specific to the handling and maintenance of screw-type condensing units. Continued professional development ensures that technicians are updated with the latest safety protocols, technological advancements, and industry best practices. This knowledge equips them to handle the equipment safely and effectively.
9.Emergency Procedures:
Technicians and operators must be well-versed in emergency shutdown procedures. Clear protocols should be established, detailing steps to safely shut down the system in the event of a malfunction, leak, or other emergencies. Additionally, emergency contact information for relevant authorities and specialized technicians should be readily available, ensuring swift response and resolution in case of unexpected situations.
Screw-Type Condensing Unit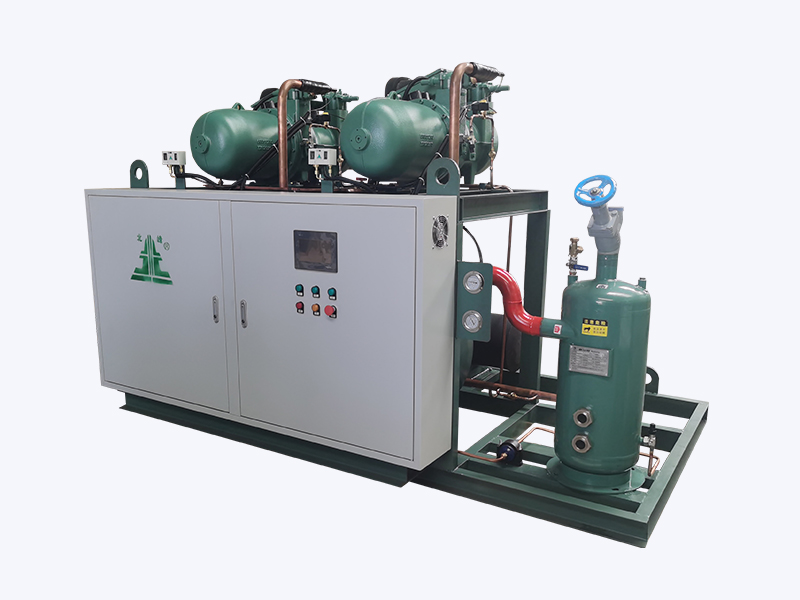 Related Products